Arthritis & Fibromyalgia Essential Lotion
These Lotions begin with a goat milk base, a natural moisturizer with a completely non-greasy feel. Essential Oils are synergized and added to create unique lotions. These Essential Oils are known for their anti-inflammatory qualities and help to ease the swelling and pain caused by injury, disease, and simple overuse...
German Chamomile, Lavender, Rosemary, Peppermint, Eucalyptus and Birch Bark work together as both an anti-inflammatory and an analgesic. Begin feeling relief instantly, while daily applications have a cumulative effect. Finally, pain management you CAN FEEL GOOD ABOUT, with a delicate scent, not a strong unpleasant medicinal odor.
Ingredients: A goat's milk lotion base combined with Aloe Vera, Almond Oil, and 6 natural anti-inflammatory essential oils; German Chamomile, French Lavender, Rosemary, Eucalyptus, Peppermint and Birch Bark.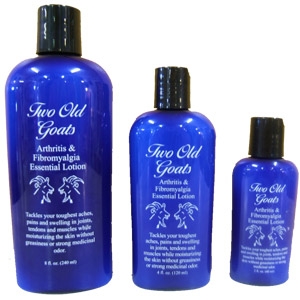 We Carry All Three Sizes
(2-oz, 4-oz and 8-oz)
NEW!!! We Now Carry The Body Wash & The Soap Bar Also