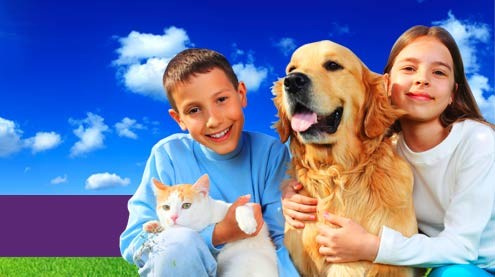 Relief has arrived!
ZYMOX® not only brings relief to pets but to their owners as well. Over time, numerous veterinary visits for recurring chronic infections can be time-consuming, frustrating and extremely costly to a pet owner. ZYMOX®'s proven product line utilizes the LP3 Enzyme System for long-term maintenance and prevention of chronic ear and skin infections. These easy to use topical dermatology products are convenient, safe and effective.

Why are enzymes better? Enzymes are naturally occurring proteins that increase the rate of chemical reactions. They are natural defenses against harmful microbes. They can be found in many places and have very specific jobs. Enzymes won't irritate a pet's sensitive or raw skin are very safe, non toxic for pets, people and the environment and most importantly, bacteria won't develop resistance against enzymes, so they are always efficient. The patented LP3 Enzyme System in Zymox is a combination of enzymes with very specific jobs which work synergistically to inhibit, split and destroy the offending bacteria, fungi and even some viruses making the combination antibacterial as well as antifungal. The enzymes only target the invading single-celled organisms, healthy cells are unaffected.
The First—and ONLY—NO CLEAN, ONCE A DAY Care for Ears
---
ZYMOX® Enzymatic Ear Solution
Zymox® Enzymatic Ear Solution
Highly effective for aiding in the treatment of bacterial, fungal and yeast infections including Staphylococcus, Pseudomonas, Proteus and Malassezia. The solution works with the body to react with present pus and debris to kill infectious microorganisms. The non-invasive protocol requires no cleaning before and during use so that the enzyme activity is not disrupted. Also recommended for treating antibiotic sensitive animals, difficult problematic pets, rodents and sensitive exotics.
Has no memory so destroys antibiotic resistant microorganisms
Contains no antibiotics
No pre-clean, once a day protocol makes it simple to use
Cleans and relieves with one daily dose
3 out of 4 dogs suffer from chronic ear infections!
Dirty, Waxy Ears
---
ZYMOX® Ear Cleanser
ZYMOX® Ear Cleanser provides an effective, non-toxic way to manage dirty ears. The addition of Lacoperoxidase, Lactoferrin and Lysozyme, which have natural bio-active properties for mild microbe control, plus gentle cleaning surfactants, makes ZYMOX® Ear Cleanser perfect for cleaning dirty ears. Does not contain harsh chemicals or cleaners to irritate sensitive ears. Leaves ears smelling fresh.
Not just another ear cleaner!
Calm Itchy, Allergy Prone Skin—Naturally
---
ZYMOX® Shampoo for Itchy Inflamed Skin
Zymox® Shampoo for Itchy Inflamed Skin
The first line of defense against infectious microbes is the skin. ZYMOX® Shampoo provides an effective way to protect this natural barrier without being irritating or drying. Only the mildest plant surfactants are used and the enzymes have anti inflammatory properties to calm the skin. The LP3 Enzyme System with the addition of Vitamin D3 helps relieve surface irritations and hydrate the skin. The shampoo contains no harsh detergents, chemicals or petroleum bi-products and features a pleasant, mild fragrance.
Pure and gentle enough for puppies and kittens
Does not contain harsh detergents, steroids, or petroleum by-products
Calms and soothes itchy allergy prone skin
Provides natural inflammation relief
Pleasant mild fragrance
ZYMOX® Conditioning Rinse for Itchy Inflamed Skin
Zymox® Conditioning Rinse for Itchy Inflamed Skin
ZYMOX® Conditioning Rinse produces a powerful protective barrier against minor skin inflammations and surface irritations due to bacterial and fungal microbes. The LP3 Enzyme System with Vitamin D3 provides optimal protection for the skin. For best results, wash first with ZYMOX®Shampoo and use as a leave-in rinse for residual effectiveness. Can also be safely applied full strength directly to most problematic areas.
Bio-active enzymes have been shown to be effective against:
Pyotraumatic Dermatitis
Trichopyton
Pseudomonas
Impetigo
Candida Albicans
Staphylococcus
Bodyfold Pyoderma
Malassezia
Microsporum
Use as a Leave On rinse for between bathing protection & relief.
---
ZYMOX® Topical Spray & Cream for Hot Spots & Skin Infections
Zymox® Topical Cream for Hot Spots & Skin Infections
Zymox® Topical Spray for Hot Spots & Skin Infections
The most common skin condition both dogs and cats can be afflicted with are hot spots. They are characterized by itchy, raw, sometimes bloody patches of skin. In addition to managing hot spots the Zymox topical cream and spray is ideal in wound care as well as other common skin infections.
Regardless if bacterial, fungal or yeast and they can be applied 1x/day as needed with no pre-cleaning or scrubbing of the skin because the LP3 Enzyme System reacts with the infectious pus and debris to form its antimicrobial properties. Pre- cleaning and cleaning during use disrupts this biological system and will negatively affect results. Zymox is safe, gentle and non-toxic and worry-free if a pet licks application site. Both contain hydrocortisone for inflammation relief.
The topical cream features a catheter tip which is ideal for hard to reach applications such as skin folds.
Recommended for use on wounds and the most troublesome skin infections.
BACTERIAL
Surface Infection:
Pyotraumatic dermatitis hot spots, wet eczema, acute moist pyoderma
Body fold pyoderma
Superficial Infections:
Impetigo
Superficial and generalized pyoderma
Staphyococcus ssp (including MRSA) Pseudomonas ssp.
FUNGAL
Superficial Mycoses:
Microsporum, Trichopyton, Epidermophyton (ringworm)
Yeast:
Malassezia pachydermatis, Candida albicans